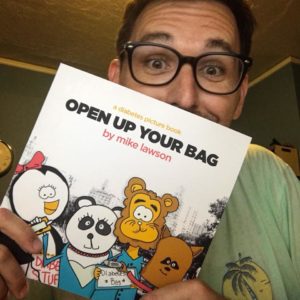 There is a new diabetes book making its way around the world and I feel proud to call this person a friend. I've known Mike on the interwebs for probably close to 10 years at this point. I've only met him a hand full of times in person, but every time that I have, he has been one of the nicest, sincere people that I've met.
Mike just so happens to be an incredible doodler. And if doodler isn't a word, then it is now because that's what Mike does.
I've seen his doodles be used by an entire company as their avatars.
Mike has created the book Open Up Your Diabetes Bag: a diabetes picture book.
This book is filled with Mike's doodles to help kids learn and understand their diabetes management a little better. You can also head to Mike's website, DiabetesDoodles.com and download activities so your children can color his doodles!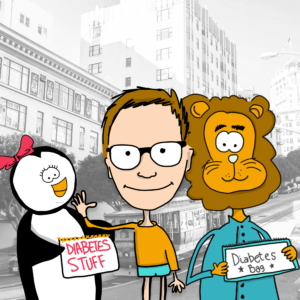 The book contains concepts of opening your meter bag, testing your blood sugar, taking your insulin and more. This book is intended for kids and that's just what I used it for.
I read this book with my daughter multiple times and there's a page in the book where one of the doodles is taking a shot with an insulin pen and my daughter laughed and said, "daddy that silly penguin is taking a shot like you."
That comment right there made the minimal investment worth it.
The book is super small so I can't give too much of a review other than that I back this book up and I highly recommend it for not only a child with diabetes but any parent who has diabetes and wants to explain diabetes management to their child.
FREE GIVEAWAY ALERT
I've asked Mike if I could do a giveaway here and he said absolutely. So, guess what, that's exactly what we are going to do!
You can enter this giveaway with multiple different actions. The more you do, the more entries you get.
Please see below for the details. The winner will be announced next Tuesday, August 14.